General Intro
Rebar Support Chair, reinforcing steel bar supports
Rebar Support Chairs are normally parts for reinforced fastenings in large building construction. Our rebar chairs have formed cradle design to fix the reinforcing bar or reinforcing mesh sheets. Also known as rebar support, metal horse stool, support chair, post-tension chair and reinforcing steel bar stool. Metal support chairs are used to support horizontal reinforcing steel, wire mesh or post tension cable.
Materials: low carbon steel (Q235), medium carbon steel and other materials.
Height: 3/4" to 2", in 1/4" increments.
Features: Formed cradle to place wire mesh or reinforcing bar. Foot designed to set on most forming surfaces. Support of strong and good stability.
Finishes: Rebar Support Chair is available in plain, galvanized, plastic-protected or epoxy-coated finish.
Application: Rebar Support Chair is mainly used for building and infrastructure engineering foundation, underground works or bridge, and other large bearing parts of reinforced fastening, large building industry-layer or multi-layer steel connection to support wide-spaced light steel in slab or deck construction.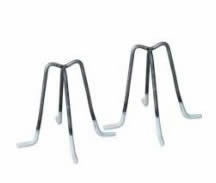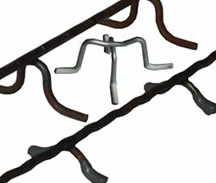 Need more information about Concreate Reinforcing Products? Contact us now.