General Intro
Concrete Reinforcing Steel Fiber
Concrete Steel Fibers are cut to length metallic fibers engineered from cold drawn steel wire or stainless steel wire or sheets. Compared with non-metallic fibers like fiberglass, steel fiber is designed for long term performance and superior concrete crack control in industrial applications. The uniform distribution of steel fibers throughout the concrete mix transforms concrete into a more ductile composite material that increases the energy absorption capability of the slab. Concreate supplies concrete reinforcing steel fibers in flat or corrugated surface for specific uses.
The steel fibers are mainly used for reinforcement of concrete, it also provides exceptional control of drying shrinkage cracking and maximum load stability at the floor joints, where it is most needed.
Concrete reinforcing Steel Fiber has the following types:
Corrugated Steel Fiber material has high tensile strength and cost saving application.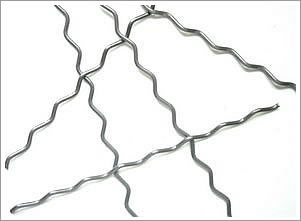 Steel Fiber with Corrugated Wave Surface for Easy Application
Hooked End Steel Fibers: This type of concrete reinforcing steel fiber has high tensile strength suitable for highway, bridge, airport runway, tunnel, hydropower, ports, ocean engineering, earthquake-resistant constructions.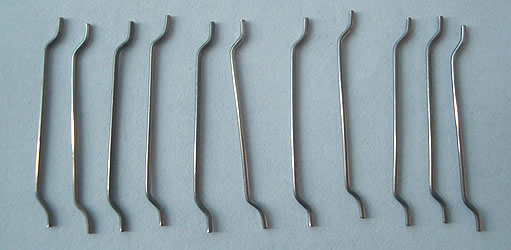 Steel Fiber with Hooked Ends, Single Line Type, for Easy Fixing
Shear-Pattern Steel Fiber, or Waved Surface Steel Fiber Sheet for increased toughness of the concrete buildings.


Reinforcing Steel Fiber with Wave Surface, Tougher than Common Fibers
Ribbed Steel Fiber: for Concrete Slab Reinforcing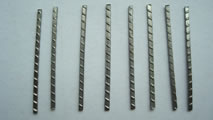 Benefits of Using Concreate Steel Fibres:
The advantages are: The use of shrinkage steel can often be eliminated. In some cases the thickness of the slab can be reduced up to 45%. It also offers greater accuracy and flexibility in project scheduling. It can be placed and finished faster, requiring only conventional mixing, placing and finishing equipment.
Tensile Strength: > 800 MPA
Bending Rate: Bend 90 degrees three times and not broken.
Steel fibres applications: Concreate steel fibers are mainly used in Cellar walls, vibrocompacted piles, pavements, tight floors, jointless floors, industrial floors, vibrocompacted piles, outdoor slabs, foundation slabs, etc.
Common specifications:
Fiber length (mm): 38 (1.5")
Diameter (mm): 1.0±0.03
Tensile strength: (Mpa ±5%): 850
The thickness of fiber is 0.5mm and width is 1.4mm
Fiber length (mm): 50(2")
Diameter (mm): 1.0±0.03
Tensile strength: (Mpa ±5%): 850
The thickness of fiber is 0.5mm and width is 1.4mm
Steel fiber specification can also be made according to customer's requirement.
Need more information about Concreate Reinforcing Products? Contact us now.