Reinforcing Trench Mesh

Trench Mesh is a special wire form reinforcing for construction residential footing trenches, paths and various narrow spaces.

Masonry Wall Reinforcing Ladder Mesh

Ladder mesh reinforcement also known as Brick Wall Reinforcement Mesh is welded wire sheet used in building surface wall...

Fiberglass Reinforcing Mesh

Fiberglass Reinforcing Mesh is a metalloid synthetic woven mesh fabric with excellent alkaline resistance, suitable for concrete wall ...

Concrete Reinforcing Steel Fiber
Reinforcing Concrete Steel Fibers are supplied in cut to length for specific uses in concrete slab reinforcement. We supply four types including...

Prestressed Concrete Steel Strand

Pre-stressed Steel Strand / PC strand or PC Wire has several profiles, 2 sides, 3 sides and four sides, etc. The stranded wire offers...

Concreate Welded Wire Reinforcing Co. supplies Various Reinforcing Mesh and Steel Reinforcing Materials for concrete buildings. The Welded Wire Reinforcement can be supplied in wire mesh panels, fabrics and mats and deformed wire forms. The mesh openings can be square, rectangular and trench opening. Special forms of Concreate Welded Wire Reinforcing include trench mesh, ladder mesh, truss mesh, rebar cages, pile cages, hexagonal canal and pipeline reinforcing wire, etc.

Concreate reinforcing mesh has a new family member: Fiberglass Reinforcing Mesh. This non-metal fiber reinforcing fabric is a substitute construction material for Metal Wire Reinforcing in some cases like building EIFS system, interior and exterior wall insulation system and drywall plastering and stucco system.

The Steel Reinforcing series include ribbed reinforcing bars, steel structures and various rebar supports used for construction and masonry wall supporting elements.

All Concreate Reinforcing Products are supplied in GBW (galvanized before weld) or GAW (galvanized after weld) for options. Hot dipped galvanizing is suitable for outdoor construction with better corrosion resistance compared with common galvanizing.
Concreate Machine, Workshops and Packing Photos
Welding Machine
Workshops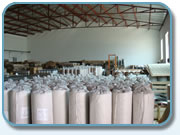 Welded Mesh Packing